I was introduced to Wicker and Rattan type of materials when I was renovating my kitchen. I did a small kitchen refresh with the help of my interior designer friend, Elyse Petrella, and I remember her recommending I add some wicker pieces to the space to warm it up. This has stuck to me ever since and I think it's such an important design advice when adding accessories to any room. Bringing those natural elements in those earthy tones really helps warm up a space while making it effortless and classic. I've put together a few items I think would be perfect for any home that you can really incorporate in your kitchen and living room. They are also functional which is important when buying things for the home. Always think of what will make you happy and what will work with your lifestyle. My philosophy is that you want to use what you have, if you aren't going to use those pretty glasses or that pretty tray then what's the point?
Trays
Trays, trays, and more trays. You can use them for your meals and to organize items on your coffee table and kitchen counters. These are just a few ideas. I really love this one with scalloped edges.
Accent Tables
People love this wicker accent table because it's such a useful piece and the price point is amazing. I wish I had the space for this, I would order it in a heartbeat. Obsessed with this one and this one too.
Coasters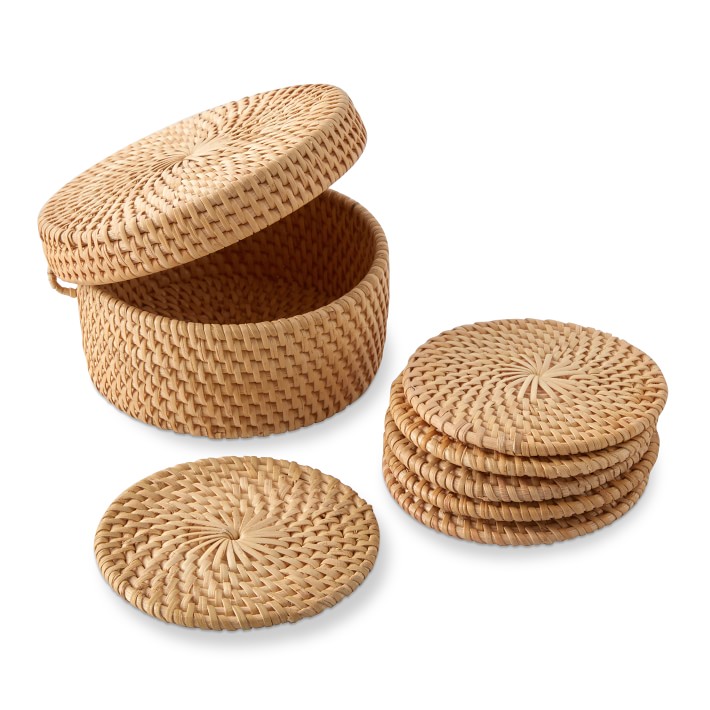 We all need coasters and I love that these come in their own little case, adds warmth to any room. Additional coasters I like here, here, and here.
Mirrors
I love the feminine silhouette of this piece. Additional mirrors I like are here and here.
Lamps
This rattan base is so chic and you can even change the shade to be of a silk one if you want something a little less boho. I also like this one and this one.
Tablescape Accents
I love setting a table and adding these beautiful natural touches. I am also adding the bamboo flatware because I just love it and it goes so nicely with the other raffia and caned pieces.
Picture Frames

Adding picture to your home is a wonderful thing, easy way to remember happy memories. I also love these frames, here, here, and here.
Books
Books are always such a fun way to learn more about what you love and this one is perfect for rattan lovers. This book takes a look at rattan's history from Parisian gardens to California beach houses. Also check out this one and this one.
Similar posts:
This post may contain affiliate links, I may earn a commission from the purchase of these links. However, this will not cost you anything additional and I only recommend products I enjoy.